24th Model Kits Exhibition/Swap of Amay Modeles Club
28 août 2021 @ 10h00

-

17h00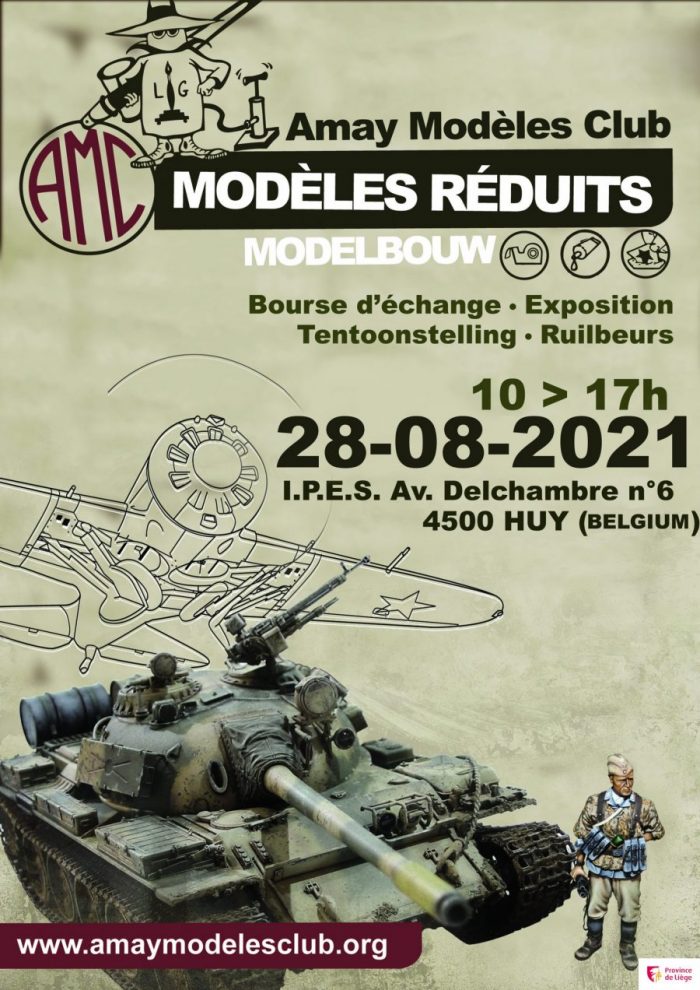 Dear Fellow Modellers,
We are pleased to invite you to AMC's 24th Modelling Day at the IPES, Avenue Delchambre 6, Huy (B-4500)
from 10.00 am to 5.00pm on Saturday 28st August 2021.
The event will include a swap meet and an exhibition. There is no contest this year.
Traders will be admitted from 7.00am
Customers from 10.00am
Swap tables will be available at 8 € per meter

The exhibition is free but you are invited to reserve tables by sending the form enclosed above (click on REGISTER).
Registrations will be closed by Aug.15th.
We'll then send confirmations and organisation details over mail to all registered parties (exhibitors/swap&shop) by week of Aug.15th.
Two prizes will be given by AMC members : the Best Club Stand and the Best of Show Model
COVID-19 Rules
As of Aug.24th, following rules are applicable and will be remembered onsite:
-Masks are mandatory to wear at all times inside buildings.
There will be no exceptions and AMC members will ensure rule is followed by all parties (visitors/exhibitors/vendors).
-Physical distanciation is enforced as 1,5m inside and outside of buildings.
–There is a maximum amount of people allowed in the building at the same time.
When this quota is met, new visitors will have to queue outside until several visitors left the exhibition or room.
-Entrance and Exit of exhibition will be over separated doors.
An AMC member will greet you to enter building after you've had cleaned your hands with available hydoalcoholic gel.
You cannot turn back when you've exited, so you need to re-enter from main door and possibly queue. If you need to smoke, it'll be only allowed in courtyard.
-Food/Drink rules applies exactly as in restaurants: bar is not reachable so orders will be taken at the table. When moving away tables or standing, mask must be weared.
–Foreign visitors/vendors will have to follow Belgian travelling regulations that will apply at time of Aug.28th, as defined on https://diplomatie.belgium.be/en for "Traveling to Belgium".
Filled PLF form is mandatory to show on reaching exhibition: https://health-rack.s3.eu- west-1.amazonaws.com/assets/downloads/airport_UK_07_2021.pdf